We differences
InterAct is specialized in development of intercultural competence, conflict management, diversity and inclusion. We tailor interactive trainings and lectures for an inclusive work life enriched by differences.
Popular training programs
Boost your skills, boost your results
Why InterAct?
We offer customized training programs with interactive methods to develop competence for a worklife where differences enrich.
Customized solutions
Instead of a standard solution, we customize all training programs based on an analysis of your specific challenges. We use cases straight from the reality of our clients and add theory and concreate tools.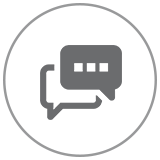 We believe in the understanding of ourselves and others, and that new knowledge should create A-ha moments. Using exercises to train and practice creates engaged and active participants and gives results that lasts.
Social impact
We transform policies and visions into practical skills. As social entrepreneurs, we help our clients to contribute to integration and an inclusive society.
Our areas of expertise
We develop teams and workplaces in the following expertise areas to make a difference
Intercultural competence
Quicker on-boarding and less miscommunication between co-workers with different backgrounds. Understanding cultural clashes to succeed with integration. Give excellent service to target groups from all anywhere in the world. Build strong teams enriched by differences.
Diversity and Inclusion
Understand how personality, background or other diversity give synergy effects. Active inclusion allows all co- workers to be themselves and contribute with their full potential to the organization. Develop practice to prevent acts of discrimination.
Conflict management
Prevent and manage conflict. Turn cooperation difficulties to constructive development. Learn to recognize the warning signals to avoid escalation, stress and sick leave. Give co-workers necessary tools for communication to handle disagreements and relieve managers and HR.
Our process step by step
One size fit nobody. We design and carry out unique training programs to unique clients.
We listen and map your needs. This allows us to build scenarios, exercises and choose models that address the challenges of your unique workplace. We design an effective and highly customized training program.
Enjoy differences and improve your teamwork
Achieve better understanding, communication and cooperation in your team!